Without your support, OxPAT can do nothing. We are very grateful to the people who support OxPAT in many ways and enable us in turn to support the efforts of local charities, and in particular those of the Oxford Homeless Network. Please contact us if you wish to offer practical assistance.
Supporting OxPAT as an individual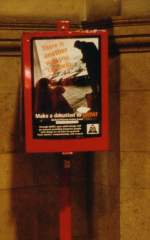 The simplest way to support OxPAT is to make a donation.
Other ways you can help include:
Organising a fund raising event, such as a sponsored ride or walk, a bring and buy sale, or a concert.
Encouraging your employer to support our activities as one of their contributions to the local community.
Persuading a local office or shop to host one of our collection boxes.
Helping us to service the boxes, by performing the collections from one or more boxes.
Supporting OxPAT as a local business
If you are a local business or organisation, then you might have skills to offer.
Other ways to help include:
Including us in the list of local charities you support.
Organising and hosting a fund raising event at your premises.
Demonstrating your support with a reference and link from your website.
Amongst the many organisations who have supported us recently are:
Blackwell Bookshop
Charities Aid Foundation
Community of St John Baptist, Begbroke
Costain Limited
Darbys Solicitors LLP
Lewis Silkin LLP
Magdalen College, Oxford
Marks & Spencer Summertown
Oxford Union Society
Oxford Students Union
Oxford Oratory Church of St Aloysius Gonzaga
St. Barnabas School - carol concert
St Hilda's College, Oxford
St. Michael's Church at the North Gate
Religious Society of Friends
Rose Hill Methodist Church
The Westward Trust
W Lucy & Co
Worcester College, Oxford
and many private regular donors.
Thank you to you all.